Omnidawn's 2013 Fabulist Fiction Prize Winner, selected by Theodora Goss: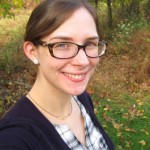 Emily Capettini
for Thistle.


Emily Capettini holds a Ph.D. in English from the University of Louisiana at Lafayette. Her fiction has previously appeared in places like Not Somewhere Else But Here: A Contemporary Anthology of Women and Place (Sundress Publications, 2013) and her critical work is upcoming in Neil Gaiman in the Twenty-First Century (McFarland & Company). She received her B.A. in English and French from Lake Forest College in 2009. In her free time, Emily runs, bakes, and blogs about women and Doctor Who. She lives in Maryland.


Five finalists were also selected by Goss:
Jean Butterfield (Berkeley, CA) for Grandma Grow
Katharine Haake (Los Angeles, CA) for Assumptions We Might Make About the Postworld
Michael Pearce (Oakland, CA) for Limbo Fish
Brooke Juliet Wonders (Cedar Falls, IA) for Seven Devices for Dispelling Demons
Laurie Saurborn Young (Austin, TX) for Visions of a Failed Ballerina

For more on Omnidawn's poetry contests, check out our contests page.