Prosody by Donald Justice: an Online Workshop to benefit Omnidawn Publishing
David Koehn will be leading this workshop "Prosody & Revision" to benefit Omnidawn Publishing. Participating poets will receive their own copy of Donald Justice's COMPENDIUM, a posthumous collection of his teachings on prosody available now from Omnidawn. Further, this online course will expose the participating poets to some of the finest writers in the country on a weekly basis.
The meeting times are every Sunday, 10a-12p pst, for 8 weeks, from May 7, 2017 – June 25, 2017.
Each week will feature a guest poet participating in the online workshop (for complete bios, click these links):
May 7: Tyrone Williams
May 14: Robert Pinsky
May 21: Arthur Sze
May 28: Norma Cole
June 4: Carmen Giménez Smith
June 11: Srikanth Reddy
June 18: Annie Finch
June 25: Gillian Conoley
Poets taking this online course will benefit from having a poem of theirs discussed each week in a workshop led by David Koehn with input from Rusty Morrison. This online course will educate the attendees on Prosody as taught by Donald Justice and provide exposure to his COMPENDIUM. Further, this online course will expose the participating poets to some of the finest writers in the country on a weekly basis.

"Omnidawn's online "Prosody & Revision" course offered me new strategies to break the chain of patterned methods of composition and revision in my poems. Most significantly, the course offered me a leg up and into material related to family trauma that I had thought previously impenetrable. Looking at my poems through the lens of prosody was invaluable, which is to say important for my development as a poet, and equally important, it was fun! To study poetry with David Koehn, Rusty Morrison, the weekly amazing guest poets, and the course's students is to be welcomed into a most special community. Take this course; you know you want to!"​
—Jami Macarty, author of Landscape of The Wait, (Finishing Line Press, 2017)
"Go beyond your intentions. That is where the scaffolding of poetic constraints can lead… After many years of workshoping in universities, I joined Omnidawn's "Prosody & Revision" to challenge my manuscript outside the traditional workshop setting…. David Koehn, Rusty Morrison, and the workshop's students strengthened my work…push[ing] my work into unexpected directions."
—Eric Anderson, previous Prosody student and Iowa Writers Workshop alumnus
The tuition is $1000 ($900 of which is tax-deductible). All proceeds go to Omnidawn Publishing, a 501(c)(3) fiscally sponsored project of Fractured Atlas.
Omnidawn Publishing is very grateful to David Koehn and to all of the poets who are donating their time to this workshop.

---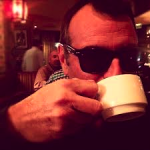 David's poetry and translations were previously collected in two chapbooks, Tunic, (speCt! books 2013) a small collection of some of his translations of Catullus, and Coil (University of Alaska, 1998), winner of the Midnight Sun Chapbook Contest. David's first full length manuscript, Twine, now available from Bauhan Publishing, won the May Sarton Poetry Prize. David's poetry has appeared in a wide range of literary magazines including Kenyon Review, New England Review, Alaska Quarterly Review, Rhino, Volt,Carolina Quarterly, New York Quarterly, Diagram and many others. David Koehn received his MFA from the University of Florida, Bachelors from Carnegie Mellon, is an essayist for OmniVerse, and Chair of Omnidawn's Advisory Board.